Best Free Spam Blocker Software
Looking for good spam blockers? Here is a look at the best of the free spam blocker software options available.
Spam is an incredible problem in both email as well as on websites. Finding ways to get rid of the issue, particularly in your email can be problematic. Some spam software takes a very long time to get accustomed to, and doe require some real effort to set up and to use. Getting a spam blocker that doesn't take a long time to get to know and doesn't take hours to set up is important in order to assure that you get not only the best protection, but the fastest.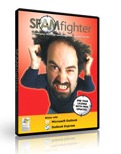 The Best Free Spam Blocker
The best of the spam blocker software that we've personally found aside from the for-pay editions is one known as
SpamFighter
. The reason we offer it the title of best free spam blocker is due to the very impressive reviews that magazines and other companies offer it, as well as the many truly impressive methods it uses to block spam.
The reviews are all rave actually about the way that Spamfighter blocks the spam. It is an online, or network style software so there are some very positive effects from that as well. Your spam is sent into Spamfighter from your ISP using criteria that you will set up for the software.
Spamfighter is frankly remarkably easy to use. Testing for it showed that it let in almost no spam at all, and the number of false positive spams were extremely low, meaning that it didn't filter out the emails that you wanted to get.
Spamfighter is completely free but it does have a couple limitations that you're going to need to be aware of. One example of the limitations is that the free version sets in small text advertisements in the bottom of your email when you send it out. This is something that a lot of service users are not impressed by. They are attached to every email that you send out, so if you're using the Spamfighter for your business it tends to look a little on the shaky side.
You can have them removed by upgrading to the professional version of the software, which retails for about 30 dollars per year for the online service. Some users believe that a free service should be simply that, free with no attachments or limitations and won't use the Spamfighter software for that reason.
We tend to feel that any software which offers you the kind of protection that Spamfighter seems to give without payment can certainly drop an advertisement in the bottom portion of our mail.
The reviews which find it an outstanding value, even with the presence of the text ads are Comsumer reports and PCMag, both of whom rated the Spamfighter superior performing software.
If you're serious about getting rid of spam in your in box, and these days who isn't, then one method to accomplish it will be to use the online free spam service that has been rated as the number one best free spam blocker software.SpamFighter also gets our vote for the best free spam blocker software available.


Return from Best Free Spam Blocker Software
to the Spam Blocker Page

Return from Best Free Spam Blocker Software
to the Home Page